Find your NH Vacation Ideas
Learn about visiting New Hampshire
Find your NH Vacation Ideas Some of our recommend hiking trails in Keene, NH [...]
Skiing is a fun family activity that people have been participating in for years. Recently, it's seen somewhat of a revival as outdoor recreation booms and more families flock to the outdoors, looking to enjoy time together away from the attention-grabbing screens of their daily lives. For lots of parents, it's the first time they've skied in years – if they've ever skied at all. While many say that skiing is like riding a bike, there's much more to it than just that.
Tips for Returning to Skiing After a Long Break
Being prepared when you go skiing is vital to safety and fun on the mountain. Someone looking to return to skiing after a long hiatus from the sport might not remember all the essentials, so here are some tips for getting you back on the mountain after a few years off.
Check Your Equipment
While it might seem like a good idea to break out those ten-year-old skis collecting dust in your basement, it's better to have all your equipment checked before you hit the mountain. Unused or dated equipment can lose its integrity over time, leaving you vulnerable to injury.
Instead of trying to revive your outdated gear, consider renting equipment from your local mountain. Many New Hampshire mountains offer rentals at affordable rates for the entire family.
You should also make sure you have all the necessary equipment for a fun-filled and safe day on the slopes. Here's a list of all the essentials:
Skis
Ski boots
Helmet
Goggles
Ski coat
Snowpants
Mittens
Wool socks
Neck gaiter
Warm layers
Poles (for non-beginners)
Thermal underwear
Start Off Easy
You may have been cruising down double black diamonds in your hay days, but if it's been fifteen years since you've touched a pair of skis, it's best to start off easy.
Depending on your previous skills, start by warming up on the bunny hill or some green circle cruisers. Use these easy runs to help your body remember the feel of skiing, such as the different muscles it works and the balance it requires.
Review Safety Rules
Safety on the mountain is of the utmost importance when you're skiing. Not only are you responsible for your own safety when you're skiing, but you're also responsible for the safety of everyone else on the trail.
An out-of-control skier is dangerous, and you need to ensure that you and your family are up-to-date on the rules of the mountain. Here are some general safety guidelines for skiers:
If you are stopped, always look behind you before you start to ski again.
Always wear a helmet.
Stay on designated trails, and do not ski on closed trails.
Only ski down trails that match your skill level.
Try to ski with at least one other person.
Make sure you know how to use a ski lift, gondola, or tow rope before getting on.
Controlled skiing is more important than fast skiing (and requires more skill).
You should always review the safety rules and trail map of the mountain you are skiing at beforehand to make sure you understand its specific rules.
Take it Slow
Unfortunately, your old skiing abilities won't magically come back within your first twenty minutes on the mountain. Know that this is okay, and give yourself time to regain the skills you once had. The most important thing you can do is understand that it's going to take some time, but you will eventually get there!
Consider Taking Lessons
If you're feeling rusty, taking lessons can help you get back to your old skiing skills much quicker than trying to do it on your own. You may even see some improvement and fix bad habits, too! For safety, you should always take a lesson if you've never skied before.
If you're planning to go skiing with your entire family, lessons are also an excellent way for the whole family to improve their skiing and learn mountain safety. Afterward, you can all join up and practice what you've learned – together!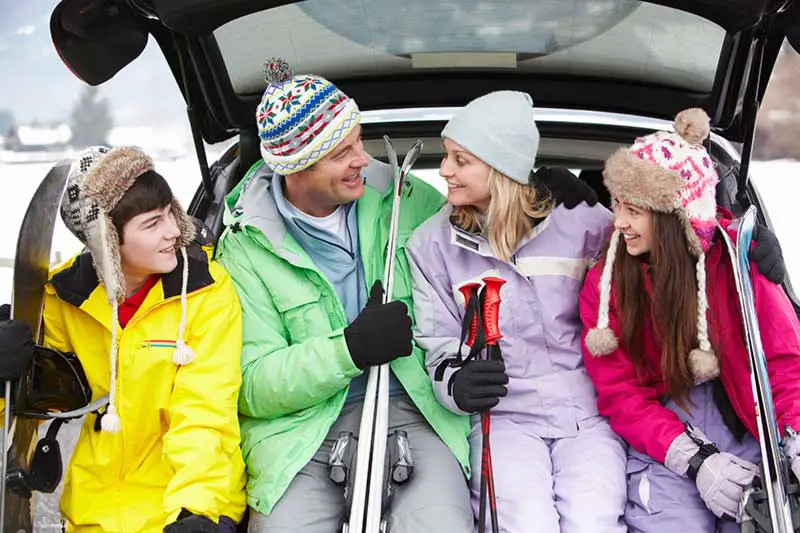 Is Skiing Like Riding a Bike?
If it's your first time skiing in several years, you might be feeling anxious to hit the slopes again. Perhaps a well-meaning stranger or friend has told you that skiing is like riding a bike, and you'll be fine. While this is somewhat true, there's more to it than sliding on your boots and effortlessly edging down a black diamond.
Skiing is like riding a bike in the sense that you should have retained most of the basic skills of the sport – or at least the skills you had before you stopped skiing. But, if you were working on more advanced skills or even had some, the likelihood of those still being around diminishes over time.
For this reason, skiing also falls under the "use it or lose it" category when it comes to more advanced techniques. The longer you don't use it, the less you'll have to grasp for when you finally decide to go back. That's why you should try skiing as often as possible, even if it only ends up being once or twice a season!
Best Family Ski Mountains in New Hampshire
If you're new to the area and looking for a great place to get back to skiing with the whole family, New Hampshire has plenty of mountains perfect for you. While every mountain has something unique and amazing to offer, these are some of New Hampshire's best ski mountains for families:
Dartmouth Skiway is a small, laid-back mountain with a local, family feel. Most of their trails are ranked beginner or intermediate, and they offer an awesome weekly lesson program for the kids.
Cranmore Mountain is a four-season resort that offers family activities all year long. In the winter, they have over 40 beginner and intermediate trails where skiers can practice their skills. They also have a top-ranked ski school with lessons for every age and skill level.
Cannon Mountain is one of the only mountains operated by the State of New Hampshire. It has several beginner areas, perfect for anyone returning to skiing after a long break and looking to rediscover their skills.
King Pine offers a small but diverse selection of 17 different ski trails. It's the perfect place for families because it has plenty of off-mountain entertainment, including lift-serviced snow tubing, cross-country skiing, snowshoeing, and ice skating.
Sunapee is a family-friendly ski resort located less than two hours from Boston. They've got a stellar ski school and well-planned ski trails, making it a fantastic choice for a family weekend away this winter.
Pat's Peak is family-owned and managed, so you know they understand how to cater to families. Pat's has a great mix of trails and a super-organized ski school. If you've got younger kids, this is the place for you. Children under five ski free when accompanied by an adult in the beginner areas.
Bretton Woods is New Hampshire's largest ski resort. With over 450 acres of mountain, there's a good pick of trails for all ski levels. Bretton woods offers many perks to families. They have a ski and snow play area for kids who aren't ready for ski lessons yet, and all children four and under ski for free with a paying adult.
Your Guide to New Hampshire Skiing This Winter
Are you looking for more tips on how to make the most out of New Hampshire winters? Planning the perfect ski trip might be at the top of your priority list, and we're here to help. At New Hampshire Vacation Ideas, we aim to help families have the best New Hampshire vacation they can. Check out our website to keep planning your perfect New England ski vacation.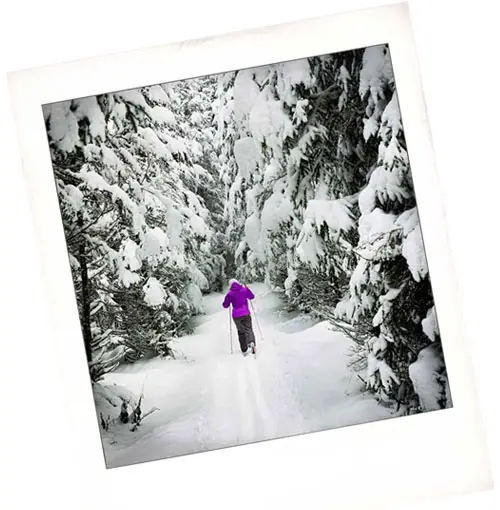 Come Enjoy the Beauty of the Winter
Warm up this winter with family cross-country skiing! From beginner to expert runs, there are plenty of trails to explore across New Hampshire. The hub of cross-country skiing in the Northeast. Find all you need to know to get ready for your next trip to New Hampshire. Places to stay, outdoor activities, skiing and more.
Getting the Correct Cross Country Ski Boot Size for your Kids Makes a Big Difference The air [...]