New Hampshire is a treasure trove of natural wonders, and the Chesterfield Gorge Natural Area, located in Chesterfield, is a gem waiting to be explored. Nestled between Keene, New Hampshire, and Brattleboro, Vermont, this pristine destination is a true paradise for nature enthusiasts and families looking for an easy afternoon hike. In this blog post, we will take you on a journey to Chesterfield Gorge, highlighting its proximity to nearby towns, the reasons it's perfect for a family outing, and whether the trail is pet-friendly.
Chesterfield Gorge: A Natural Oasis
Chesterfield Gorge Natural Area, a 13-acre park, is a picturesque spot that boasts a stunning gorge carved by the mighty Wilde Brook over thousands of years. This awe-inspiring natural wonder has been attracting visitors for generations and is now preserved for all to enjoy. The natural area is a convenient escape for both locals and visitors from neighboring towns, making it an ideal destination for a relaxed day outdoors.
Proximity to Keene, NH
Keene, New Hampshire, is a charming city that serves as a gateway to the natural beauty of Chesterfield Gorge. Located just 7 miles to the north, Keene offers visitors a convenient starting point for their adventure. A short drive south on Route 9 takes you to this hidden gem in the heart of Chesterfield. Whether you are a Keene resident or a visitor, the Chesterfield Gorge is just a stone's throw away, making it the perfect spot for a quick nature fix.
Nearby Brattleboro, VT
For those residing in or visiting Brattleboro, Vermont, Chesterfield Gorge is also easily accessible. The journey is a scenic one, with a drive of around 16 miles from Brattleboro to the natural area. Just head east on Route 9, and you'll find yourself in the midst of this natural oasis in no time. The short drive is well worth the beauty and tranquility that awaits you at Chesterfield Gorge.
Why It's Perfect for a Family Afternoon Hike
Easy Accessibility: One of the standout features of Chesterfield Gorge is that it offers a delightful family-friendly hiking experience with relatively easy access. The parking area is just a short walk from the gorge, making it accessible to people of all ages, including young children and seniors.
Scenic Beauty: The gorge's breathtaking natural beauty is sure to captivate every member of your family. As you follow the well-maintained trail, you'll be surrounded by lush vegetation, stunning rock formations, and the soothing sounds of the Wilde Brook.
Educational Opportunities: The natural area provides educational signage along the trail, allowing families to learn about the geology and ecology of the gorge. It's an excellent opportunity to teach your children about the wonders of nature.
Picnic Spots: Chesterfield Gorge offers several picnic spots, making it a fantastic place for a family picnic. Enjoy lunch while surrounded by the sounds of the flowing water and the sight of the gorge's beauty.
Relaxing Atmosphere: The serene ambiance at Chesterfield Gorge makes it an ideal spot for a relaxing afternoon with your loved ones. You can stroll along the trail at your own pace, stop to enjoy the views, or simply sit by the brook and listen to the peaceful sounds of nature.
Photography Opportunities: Capture the stunning beauty of the gorge and the surrounding flora and fauna. The picturesque surroundings are perfect for creating lasting family memories through photography.
Is the Trail Pet-Friendly?
Many families consider their pets as part of the family, so it's essential to know whether your furry friend is welcome at Chesterfield Gorge. The good news is that Chesterfield Gorge Natural Area is pet-friendly! You can bring your leashed dog along for the adventure. Here are a few tips to ensure a positive experience for both you and your pet:
Keep Dogs on Leash: Ensure your dog is on a leash at all times to prevent them from disturbing wildlife or other hikers.
Clean Up After Your Pet: Be a responsible pet owner and clean up after your dog. There are trash bins available for disposing of waste, so you can keep the area clean for everyone to enjoy.
Be Mindful of Other Visitors: Not everyone may be comfortable around dogs, so it's essential to be considerate of other hikers. Keep your dog under control and maintain a reasonable distance from other visitors.
Stay on the Designated Trails: Make sure to stick to the marked trails to avoid disturbing the natural environment and to ensure a safe and enjoyable experience for your dog.
Conclusion
Chesterfield Gorge Natural Area is a picturesque oasis in southern New Hampshire that offers an easy family afternoon hike just a short distance from Keene, NH, and Brattleboro, VT. With its accessible trails, educational opportunities, serene ambiance, and pet-friendly policy, it's a perfect destination for a day out with your loved ones, including your four-legged family members. So, grab your hiking gear, pack a picnic, and head to Chesterfield Gorge for a memorable day in the heart of nature. Whether you're a local or a visitor, you're sure to be enchanted by the beauty of this natural wonder.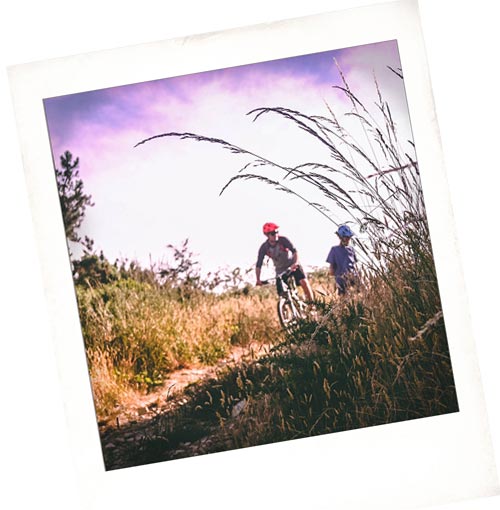 Bike New Hampshire. Find Your Adventure.
New Hampshire is a great place to bike as a family. There are hundreds of miles of scenic bike paths that are just perfect for biking. Whether it's biking on paved or gravel roads, rail trails, fat-biking, or mountain biking. There are plenty of options all over New Hampshire.
You may have heard the perspective, "Snowboarding is harder to learn than skiing, but easier to master." From [...]