Find your NH Vacation Ideas
Learn about visiting New Hampshire
When NH Vacation Ideas was started the first thing that came to mind was families. There is [...]
Is your child using the right size alpine ski? Ski sizes for kids can impact their safety, confidence, and enjoyment of the sport. So take a ride with me as we identify some critical factors in getting your child set up for success on the slopes! 
Determining the Correct Size Ski for Kids
Although it may seem daunting, sizing your child is easier than you may think. Honestly- if you can get them to put the boots and layers and goggles and things on, you are beyond the tricky part! Choosing the right ski size for kids boils down to these things: 
Height- This is the primary factor to consider when determining ski sizes for kids.

Weight- There is a range of appropriate ski sizes within the height determination. The weight helps you understand which end of the spectrum your child's right ski size sits.

Ability- The longer the ski, the more difficult it is to control. Thus, you'll want to ensure you're choosing a ski that matches your child's skill level.

Preference- Kids are kids, and you can add some fun to the ski shopping experience by considering graphics and colors that help excite the kids for their ski experience.
Generally speaking, the goal is for the ski to land between their chest and nose in height—the lower their weight or skill, the shorter the ski. While age is not necessarily a determining factor for ski size in kids, it's also usually a safe bet to choose a shorter ski for the younger skiers. Reserve longer skis for heavier kids or those already flying down the slopes in confidence. Take a peek at our kids ski size chart below to pinpoint the perfect skis for your child.
Kids Ski Size Chart. Find the ski size that best fits your child.
Height (Ft/In)
Weight (lbs)
Ski Length (cm)
3′
25-40 lbs
70 cm and less
3'2″
70-80 cm
3'4″
35-50 lbs
75-90 cm
3'6″
80-95 cm
3'8″
40-65 lbs
85-100 cm
3'10"
90-105 cm
4′
45-75 lbs
95-110 cm
4'2″
100-115 cm
4'4″
65-95 lbs
105-120 cm
4'6″
110-125 cm
4'8″
90-130 lbs
115-130 cm
4'10"
120-135 cm
5′
125-140 cm
5'2″
125-160 lbs
130-145 cm
5'4″
135-155 cm
A Few Things to Consider When Sizing More Experienced Kids
Generally speaking, kids' skis are much simpler than adult skis. Therefore, skis' shape, width, and weight are not usually factors you should consider when choosing a ski for your child. However, if you do have an older child who is a more experienced skier, you may dip your toes into this world of skiing. So let's take a look at each factor and what it entails:
Shape- Shape generally consists of sidecut and camber vs. rocker. 

Sidecut is the size of a ski's waist in relation to its tip and tail. The deeper the sidecut, the more the ski excels at short, quick turns. Conversely, a less dramatic sidecut lends itself to the ski excelling at wider, longer turns.

Camber and rocker define the direction of the arch in the ski. Camber creates an upward arc, while rocker is often considered negative camber. Camber helps the skier execute more energized and tight turns, while rocker aids in better performance in deeper snow. 

Width- Skiers generally prefer wider skis with wider tips for deeper snow. Narrow skis with narrow tips are used to attain higher speeds. 

Weight- While heavier skis usually prove to be more durable, they also require more effort to maneuver. Unless they are high quality, lighter skis may not be as durable but are easier to handle. 
Understanding the Impact of Ski Sizes for Kids
When your child has the right size ski, it can help them learn and improve faster. Ensuring the ski isn't too long helps them turn more easily, maintain the appropriate speed, and have an all-around fun experience on the hill. Ultimately, the holy grail of a family ski experience is a happy child (which usually means a happy parent), minimal tears (let's be honest though- parenting without tears isn't a thing), and a desire to do it all again. While ski size can seem so trivial, it can be the single factor that helps create this fun, tear-free, empowering ski experience for your family. 
Do you plan on taking a family ski trip annually? It can seem tempting to size up the ski with fast-growing kids to get more life out of the ski, and in turn, more bang for your buck. While this is harmless when shopping for pajamas, it isn't the best practice for kids' skis. Again- the wrong size ski can impact safety, confidence, and all-around fun. Instead of sizing up to save the pocketbook, check in with local ski shops to understand what discounts and programs they have in place for kids. Most shops allow you to trade in skis for children each year for a credit towards a new pair. This option allows you to choose the appropriate size ski without worrying about breaking the bank. Some shops may even provide seasonal rentals, especially for kids, at a great rate. So take it from us, and use these #Protips as alternatives to ensure you set your child up for success, and your bank account is thanking you!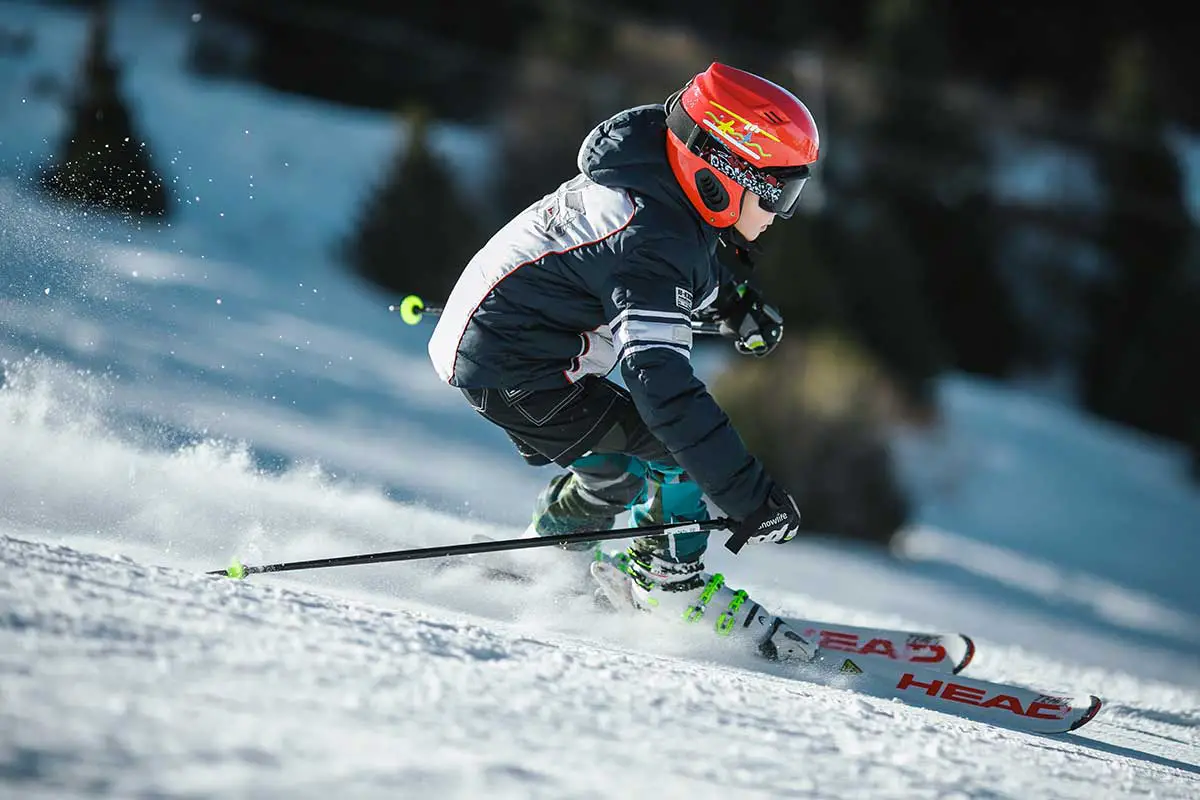 Poles or No Poles?
When choosing skis, the question of poles can also arise. Ski poles are intended for more advanced skiers to help with balance and timing when turning. However, the poles can often interfere with mastering the skier's center of gravity for beginner skiers and children. As a result, most ski schools around the country don't suggest that children be equipped with ski poles until they are level 4 skiers. In full transparency, with a group of kids, ski poles can quickly turn into the perfect sword for a fencing match. With this, unless you are shopping for a more advanced skier, poles may not be necessary for your annual ski trip.
Now that you have the tools to determine the correct size skis for your kids, you've got nothing but an unforgettable vacation ahead of you! So see you on the slopes, mom and dad!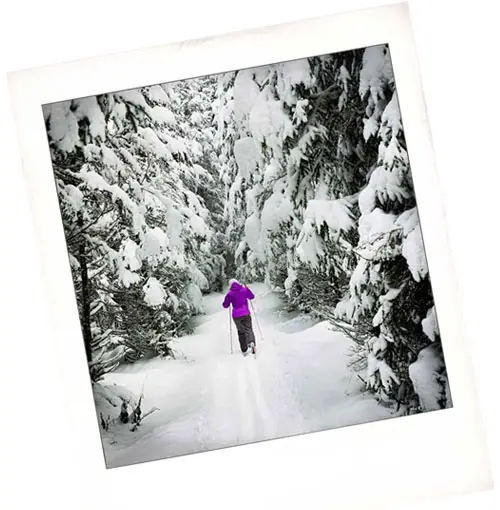 Come Enjoy the Beauty of the Winter
Warm up this winter with family cross-country skiing! From beginner to expert runs, there are plenty of trails to explore across New Hampshire. The hub of cross-country skiing in the Northeast. Find all you need to know to get ready for your next trip to New Hampshire. Places to stay, outdoor activities, skiing and more.
When you're looking for a place to camp near the White Mountains, Rumney is a great choice. Set [...]