Find your NH Vacation Ideas
Learn about visiting New Hampshire
If you know little campers or even fast-growing huge campers, you probably know that seeing kids enjoy camping [...]
New Hampshire offers a vast amount of ski trails and many mountains to choose from, making it an attractive option for families looking for a place to ski together. If you're interested in taking up skiing this winter, you might be wondering whether to take ski lessons or not. It's an understandable question. Ski lessons are expensive, and you probably have a friend or two who ski and have never taken one.
Not taking lessons, however, is a choice that should be taken seriously – especially if you're planning to ski for many years to come.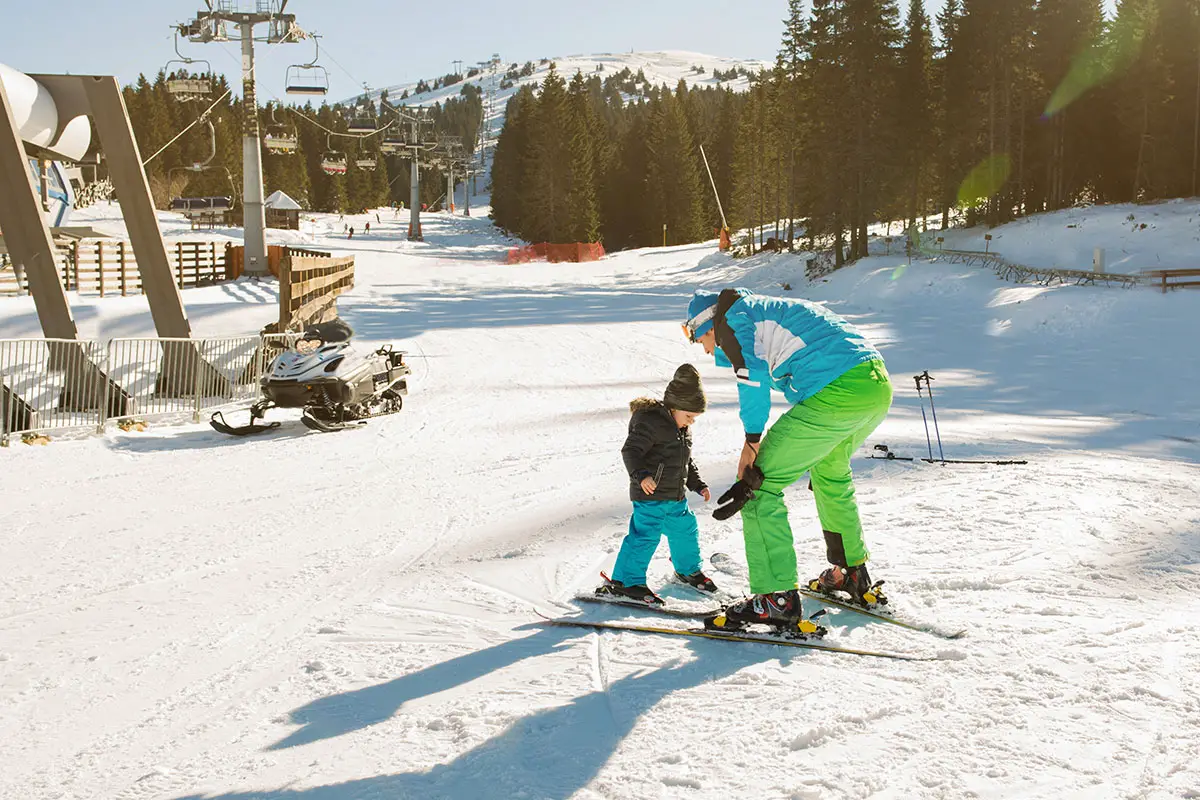 The Benefits of Ski Lessons
Taking ski lessons can offer a ton of benefits for you and your family:
Build a solid skill foundation. Taking ski lessons gives you a solid base of skills to get you started on the hill. You can take these skills with you as you continue learning. But building that strong foundation is an important first step.

 

Safety. The number one benefit of taking ski lessons is safety. A skier who takes lessons is safer for everyone. You'll prevent self-injury, crashes on the hill, and dangerous situations by taking lessons.

 

Free up your friends. If you go out skiing with a group of people who already know how to ski, taking lessons lets you have fun on your own while they take on the more advanced hills without worrying about leaving you behind.

 

Make friends at your level. Unless you're taking a private lesson, the chances are that there will be more than one person in the class. Finding a steady group of people to take lessons with means you'll have a chance to make friends with the same skiing abilities as you.
Faster improvement. People who take ski lessons improve their skiing much faster than those who don't.

 
Can You Learn to Ski Without Lessons?
The technical answer to this question is yes. You can learn to ski without lessons, but you shouldn't. The most important reason for this is because it's incredibly unsafe, not only for you but for everyone else on the trail. An out-of-control skier is a threat to everyone on the hill. If you care about yourself, your friends and families, and others…take ski lessons! 
There's a popular saying among skiers: "Skiing is easy to learn but hard to be good at." If you don't take any ski lessons, you'll most likely find a way to get down the hill, only falling down once or twice. But not properly learning how to ski will set you up for poor form that will last into the future and be challenging to correct. If you want to be a good skier someday, take lessons from the start!
Friends Don't Let Friends Teach Friends How to Ski 
Another popular saying in the ski instructor community highlights how important it is to learn how to ski from a professional. You may have a friend or loved one who occasionally skis and offers to teach you. If they do, your response should be a quick "thanks, but no thanks." 
While your friend may have good intentions, learning from a loved one is never encouraged. Why? Unless your friend is a PSIA-certified ski instructor, they don't have the right skill set to teach you how to ski. Your friend might also have some bad habits that they could pass on to you, especially if they haven't taken any lessons themselves. 
A friend who truly knows what's best for you will encourage you to get lessons instead of offering to teach you themself. 
Similar to the last question, the technical answer to this question is no. Ski lessons will give you a good skill base to build on. You don't need them, but they're highly recommended, especially if you're a new skier. 
Taking lessons also doesn't mean you can't ski at all if it isn't during your lesson time. Ski lessons are a chance to gain knowledge that you can use later on. Your instructor will even encourage you to get out on the hill by yourself and practice what you learn after your lesson! They'll also let you know when you're not ready for that big step, too. 
How Many Lessons to Learn How to Ski?
The number of lessons you need in order to learn how to ski depends on a few things. The biggest factor is age. So, let's break it down and look at how long it takes kids to learn how to ski versus adults.
Adults 
As many people stay, you never really stop learning. Even the most seasoned skiers can still benefit from taking ski lessons, and many continue to do so even after skiing for 20 years or more! 
If you're a total newbie, the amount of ski lessons you need depends on the level that you want to reach. Many learners find that they can make it down the hill with minimal falls after just one lesson.
A new skier looking to build a good foundation should take regular (at least weekly) ski lessons for an entire season, at least. This will help you build a solid foundation, create muscle memory, and gain a basic understanding of ski safety and rules. 
Children
Children tend to take longer to learn how to ski than adults. Similar to adults, the time it takes them to learn depends on the child's natural skill level and their ability to understand basic ski movements. Even within children, though, age plays a significant role. 
0 to 3 years old: Are you surprised this is even a choice? You shouldn't be! Some toddlers learn to ski before they can even walk on their own. While these kids will learn the slowest, they'll progress much more quickly as they get older. You can expect them to spend most of their time on the bunny hill, though.

 

4 to 8 years old: Kids between the ages of four and eight are a real mixed bag. Some can spend an entire season without going on the big hill, while others can rapidly progress through learning levels. So, wherever your kid ends up, don't put too much stake in it. Everyone learns at their own pace! The important thing is that they're learning.

 

9 years and older: Kids of this age will learn how to ski faster than other children simply because they're able to understand certain methods quicker than others. Some might even learn at the same pace as adults, especially as they get older!
Necessary Equipment for Learning to Ski
You'd be surprised to learn how many people don't know what equipment they need to learn how to ski! Here's the essential equipment you'll need for your first lesson:
Helmet
Goggles
Gaiter
Mittens
Snow Pants
Ski Jacket
Ski Boots
Skis (or

children's skis

)
Thermal Underwear
Lots of layers!

 
Most mountains let you rent some equipment, especially your skis and boots. Some even rent out helmets and goggles. You should check with the mountain ahead of time to see what's available for rent and what you'll need to bring on your own. 
**A note on poles. While many new skiers do use poles, they're not recommended for those just learning how to ski. Poles are used for advanced skiing techniques. So, even though they look cool, they'll mostly just be a distraction for beginners. 
Families who take ski lessons together, grow together! If your whole family is new to skiing, going out for lessons together is a great idea for a winter outing. It's also something you can do for years to come. 
The best thing to do if you want to take lessons as a family is separate the kids from the adults. As we mentioned earlier, both ages learn at different paces. The techniques used to teach kids and adults are also different, so staying apart for your lessons will help both groups learn even better. You can also come back together as a family and practice everything you've learned together! 
The Takeaway: Ski Lessons are Worth It 
Ski areas in New Hampshire offer breathtaking views with fun trails for skiers of all levels. It's a skier's paradise. With so many mountains close together, you can hit a few within one weekend. Taking advantage of New Hampshire's hundreds of beautiful ski trails is enticing for many, but going prepared is the most important thing. 
If you want to learn how to ski this winter, taking lessons is 100% worth it. You'll be safer on the hill, learn faster, and build a fantastic skillset that you can continue to build on every year.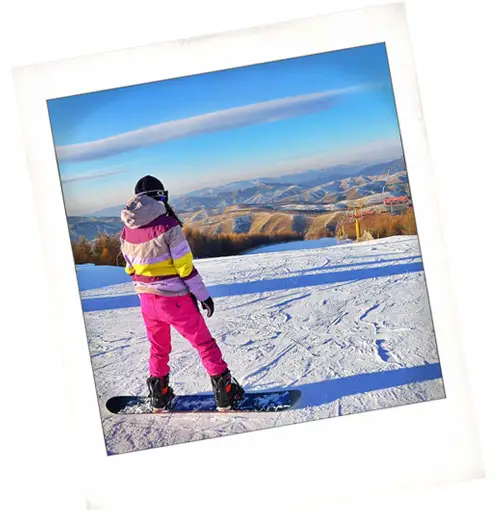 The best of New Hampshire in one place: skiing, snowboarding, hot chocolate.
If you've ever skied in New Hampshire, you know how wonderful it is. If you haven't…well, let's
just
say that it's one of the best places on earth to ski. And New Hampshire offers world-class skiing on some of the finest ski areas in the East. There are great ski resorts with various
family-friendly
trails, lodges, and overnight accommodations. You can't pick a better place for your next ski vacation!