Find your NH Vacation Ideas
Learn about visiting New Hampshire
When NH Vacation Ideas was started the first thing that came to mind was families. There is [...]
A Simple Guide to Hitting the Mountain Biking Trails of New Hampshire with Your Kids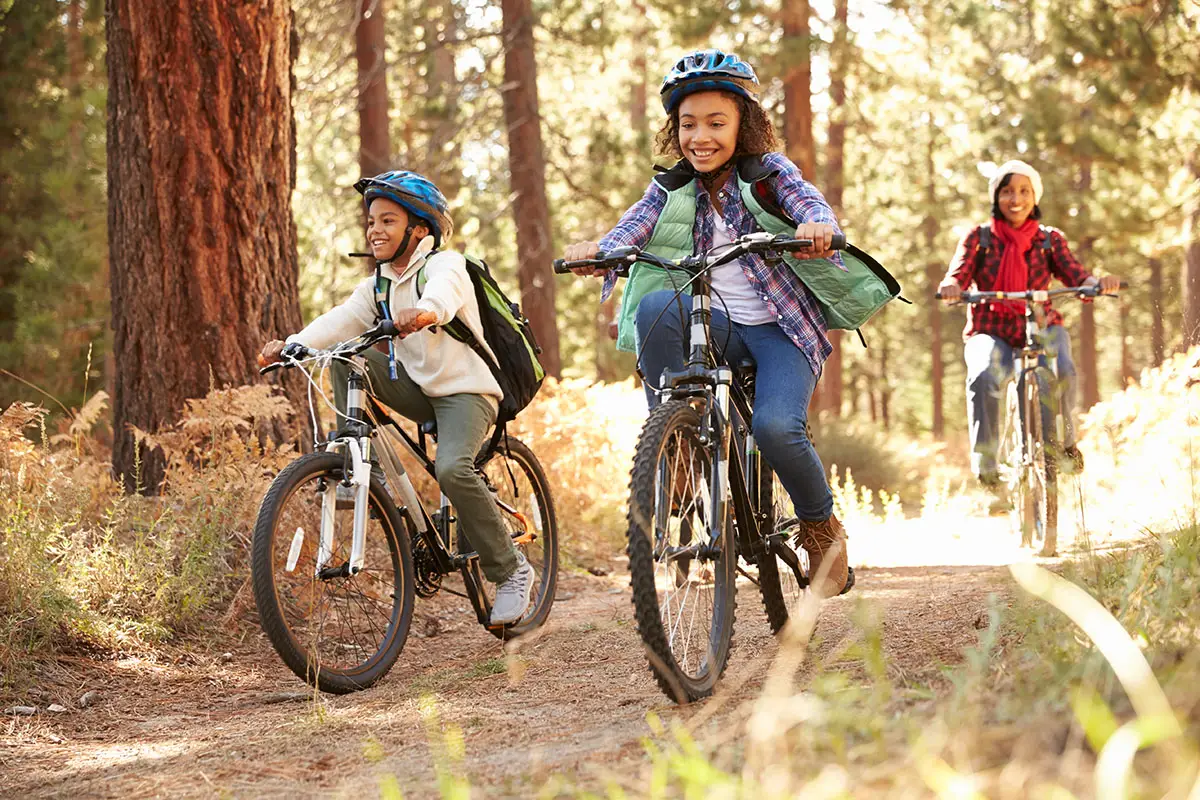 You're excited—but a little nervous too. You've found just the thing for your family vacation to New Hampshire this summer.
You're going to get your kids into mountain biking!…but how?
You want your kids to live an active lifestyle out from behind the screens. And the mountain biking trails of New Hampshire are the perfect place to start. But…
You also haven't been on a bike in years. Sure, your kids ride bikes occasionally. And your bike is sitting in the garage, but how do you get your kids into mountain biking when you don't really know what to expect?
You imagine how much fun your kids will have seeing scenic sights and exploring small historic towns. And you imagine how good it will feel to form a stronger relationship with them.
You can safely get your kids into biking. But it'll take some preparation, the right gear, the right trail, the right season, and just the right amount of anticipation.
Is Mountain Biking Dangerous for Kids?
As with most outdoor activities, there is always some inherent risk. But mountain biking does have the added risk of falling, crashing, and potentially damaging you or your equipment.
You can mitigate these risks by being prepared with the right gear and researching what trails best fit you and your child's skill level.
Not all trails are those heart-pumping, falling-with-style videos you were watching from Zion National Park. Many are paved or packed earth trails. And as New Hampshire is one of the most forested states in the US, you can imagine the beautiful scenery you'll enjoy while biking.
What to Do before You Hit the Real Mountain Biking Trails?
Here's where you really get your kids excited about exploring the mountain biking trails. Remember, you set the tone for your kids, so get them curious…
Check your bike
Sure, you want to know that your bike is in working order. But what you really want is to get your kids involved here. You want them asking, "Hey, what are you doing that for?"
Now, don't give them all the juicy details. Just throw out a little teaser. Say you're thinking about trying something this summer.
That opens the door for you to ask some probing questions to see if your kids would actually enjoy mountain biking. After all, you'd hate to learn that your kids really don't like riding their bike on an 11-mile rail trail—talk about misery.
2. Learn about trail safety
Once you've learned that biking is something your kids would enjoy, let them be a part of the research and preparation. Look up some videos about bike and trail safety, and watch them as a family.
Then talk about the "what to do ifs":
What to do if mom or dad has a crash and won't respond.
What to do if you get separated
What to do if you're going too fast downhill
What to do if you start feeling light-headed
You might be able to add some more to this list. But the important thing is that you discuss these things with your family before you take the trip. Knowing what to do in uncertain situations limits unknowns and allows you to enjoy the journey without the anxiety.
3. Take a ride around your neighborhood
This has a two-fold purpose. It allows you to make sure the bikes are in good working order. And it lets you gauge your kid's – and your own – endurance level.
Make a commitment to do this a couple of times a week before the trip. You'll find that your kids may complain when you first turn off the wifi and make them come with you. But after a few times, they'll start to look forward to it – and so will you.
4. Find a short bike trail near you
Don't try anything fancy just yet. You're still gauging their abilities and seeing if they actually enjoy biking.
So make it short. With a nice paved trail. And make it fun! Lots of stops. Lots of snacks. Really this day trip is about getting them excited to do more, so don't overdo it.
5. Make sure you're physically fit enough
It's no secret that parenthood can limit your time to invest in your own physical fitness. But for this trip to be a success, you need to be honest about your own limits.
If you really want to do that 28-mile rail-trail, but you know that you're not in shape for it, then you have a choice.
Either choose a more reasonable trail for your fitness level. Or work out a plan to get you in shape for it.
You want to be able to enjoy this new adventure with your family. It's hard to do that when you're in pain.
So be honest with yourself. What trail best suits your kids' endurance and skill level? And what trail best suits your endurance and skill level?
The Gear Kids Need for Riding on Mountain Biking Trails?
The basic gear for mountain biking starts with a properly fitted helmet, knee, and arm guards.
A properly fitted helmet means it's snug around the circumference of the head. That includes the forehead too. If you can easily lift the front of the helmet to rest on the top of the forehead, then it's too loose.
Imagine your kid taking a tumble over the handlebar and hitting the pavement headfirst. You don't want that helmet moving anywhere.
Knee and arm guards for younger, less experienced kids are a good precaution. They can prevent the skinned knee that would make the rest of the trip a trial instead of a joy.
That's the basic stuff. And if you're sticking to the well-traveled leisure mountain biking trails, that's all you need.
But if you're looking for something a little more challenging for that cocky 12-year-old who thinks they're all that and a box of cherries, you might want to invest in a mountain biking or a full-face helmet.
The mountain biking helmets are specifically designed to protect your head from impact damage in any direction.
The last piece of gear that most bikes have now is a place to secure a water bottle. You're going to be spending a lot of time outside sweating. Make sure you can carry your water bottles with you.
The Gear that You Need to Get Your Kids into Mountain Biking
You'll need the same basic equipment as your kids—helmet, water bottle, water bottle holder, etc. But remember, you have to be prepared for when something goes wrong.
Here are some extra things you should bring. You can pack them in a nice-fitting backpack or a storage bag that fits on the back of your bike.
First Aid Kit
Do not skip this essential. Yes, you want the bandaids and antibiotic ointment for when someone inevitably scraps a knee.
But you also want it for when someone gets a headache from dehydration. So pack some powdered Gatorade—it's lighter than the real thing—and ibuprofen.
You want it for if someone takes a nasty tumble and needs a cold compress. Or when you sneak up on a sunbathing timber rattler and get bit. You'll want that snake bite kit. Or for the flares in case you get lost.
Okay, that's a bit dramatic. But you don't carry everything in a first aid kit because you expect to use it every time. You carry those essentials because when you do need them, it's the difference between life and death — okay dramatic moment over.
2. GPS or phone depending on your trail
Research your route. If you think you'll be out of range of cell service, then be sure to pack a GPS to see where you're going, but also to track the route you took. That way if you end up off trail you'll be able to retrace your steps.
3. Sunscreen
Even if you think the trail is going to be shaded, take sunscreen. It's a small precaution that will save you from whiny, beet-red children who will never want to go biking again.
4. Rain gear
Always check the weather before you go. If there's the slightest chance of rain, bring the rain gear. Again, being prepared saves you from wet, miserable children.
5. Tire patch kit
What are the odds that your tire will blow the first time you take your kids out?
Well, if your bike has been collecting dust in the garage for the past several years, then the odds are good. So pack the patch kit. It's small, light, and will save you from walking your bike back instead of riding it.
6. Portable bike pump
Hey, flat tires can happen anywhere. Carrying a small pump nips that potentially trip-wrecking event in the bud.
7. Trail mix
Mountain biking eats up a lot of calories. So pack high protein and carb snacks. Besides, you know how kids get when they're hungry.
What Season Is Best for Hitting the Mountain Biking Trails in New Hampshire?
With average highs around 70 degrees, Summer is a beautiful time of year to find some mountain biking trails in New Hampshire. Even during July, the high is around 80 degrees, and the days are mostly sunny.
But if you prefer the cooler weather, fall is a better season for mountain biking. You also get the added bonus of seeing the trees change colors.
Whichever season you choose, always check the weather before you hit the trail. That way you can keep comfortable with proper clothing and rain gear when necessary.
Find Appropriate Mountain Biking Trails Near You
MTBProject.com is a great resource for finding all the good mountain bike trails near you. You just click on a state like New Hampshire, and a list loads with the name of the trail, the distance, and the difficulty level of that trail. 
When you click on one of the trails, a description of the trail and any markers to look for comes up. It even gives you the weather report for the week and trail conditions. 
Now, the International Mountain Biking Association uses a rating system to easily Identify a trail's difficulty level. 
For beginner-friendly trails, Look for the white or green circle. The intermediate level is a blue square. And the more difficult trails are marked with a diamond or double diamond. 
For a Family Challenge, Head to the Mountains of New Hampshire
To really test your skills, come to the mountains. These trails are not paved but are well maintained. There are several areas with different trails that range from beginner to difficult.
Beaver Brook in Hollis, New Hampshire, has both single and double-track trails that are good for beginners. But there are also some more difficult trails hidden away. 
If you like to do some sightseeing throughout your trails, head to Bear Brook State Park. These scenic rides go through an old town with chimneys, foundations, and cemeteries. They also provide convenient stopping points for rest for younger kids.
That's How You Get Your Kids into Mountain Biking
Ultimately, you set the tone of the adventure for your kids. If you present it as something new and exciting to tackle together, then they'll get on board.
You're building a lifestyle of healthy habits for your kids. And that's worth it.
Even if your kids are going through that "too cool" stage. If you keep that excitement coming early on, they'll come around.
Go ahead. Book your vacation to New Hampshire. And enjoy mountain biking with your kids.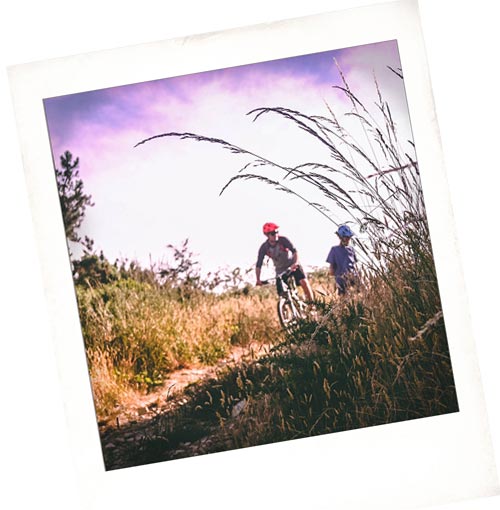 Bike New Hampshire. Find Your Adventure.
New Hampshire is a great place to bike as a family. There are hundreds of miles of scenic bike paths that are just perfect for biking. Whether it's biking on paved or gravel roads, rail trails, fat-biking, or mountain biking. There are plenty of options all over New Hampshire.
Hiking is on a spectrum: it can be a light stroll through the woods or [...]