Southwestern New Hampshire is a great location for a family retreat if you're looking for something where everyone can be active. With so many Monadnock Region activities options to choose from, it can be hard to know where to start. Here are 5 exciting things to do in the Monadnock Region in southwestern New Hampshire.
Mount Monadnock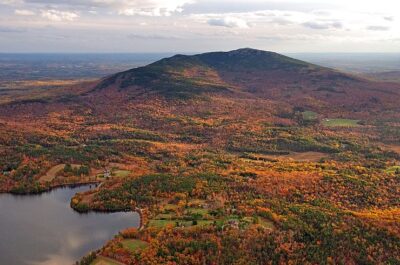 Located in Jaffrey, NH, Mount Monadnock is a 3,165-ft mountain with 40 miles of clearly marked foot trails, leading to the bare rock summit. As one of the most climbed mountains in the United States, the bare, isolated, and rocky summit provides some great views. Five major trails lead to the top, where you can see Boston as well as Mt. Washington on a clear day. With trails of different lengths and intensities, this is a perfect outdoor activity for the whole family. 
At Monadnock State Park, you can find a campground, picnic areas, and in the winter cross country ski and snowshoe trails. The three main trailheads: Monadnock HQ, Old Toll Road, and Gilson Pond each have their length and intensity. Monadnock HQ, home of the main trails (White Dot and White Cross Trail) is the most direct route to the top at 1.9 miles one way, taking 3-4 hours roundtrip. Old Halfway House Trail and White Arrow Trail, both accessible from the Old Toll Road trailhead, has a distance of 2.2 miles one way and would take you 3-4 hours round trip to reach the summit. This trailhead has access to many side trails and alternative destinations. 
Gilson Pond, which is the start of the Birchtoft Trail/Red Spot Trail is 3.5 miles one way averaging 5-6 hours round trip. This is a longer hike for those who are more interested in solitude rather than getting to the top. Each of these routes to the summit is steep and rocky. Those who want to get to the top should start at Monadnock HQ and take the White Dot trail. 
Pisgah State Park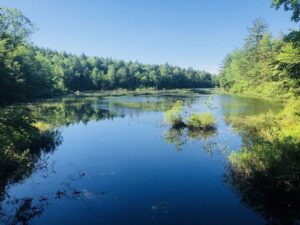 Spanning 13,300 acres of forested terrain, Pisgah State Park located in Winchester, NH is the largest property in the New Hampshire state park system. Within the 21 square miles are seven ponds, four highland ridges, and numerous wetlands. Six trailheads are available for use year-round for ATV, snowmobile, hiking, mountain biking, and horseback riding. Pisgah State Park is open to the public year-round at no charge, although gates close through mud season. 
Cheshire Rail Trail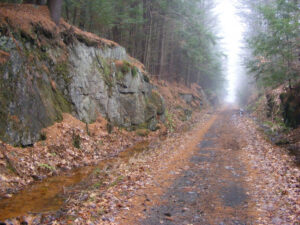 Spanning 42 miles, the Cheshire Rail Trail is a well-maintained path, with starting locations in both Fitzwilliam and Walpole. The two sections of the path are connected by a paved section in the center of Keene. The wooded sections of the trail can be used for mountain biking, horseback riding, or just a casual stroll in the warmer seasons and the winter cross-country skiing, snowshoeing, and snowmobiling. On this trail, you'll cross over the Ashuelot River using a beautiful arched bridge. 
Goose Pond Recreation Area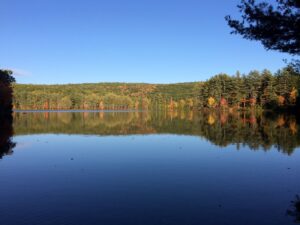 Located on the outskirts of Keene, Goose Pond Recreational Area is a 2-mile trail that travels around Goose Pond. This trail is kid and dog friendly, making it a good starter trail for families. This trail also has connections to the 31 miles of trails that are part of the Drummer Hill Conservation Area. After your hike around the pond, stop at the forest clearing and concrete dock which are perfect spots for having a picnic or swimming in the pond. 
The Goose Pond loop trail is one of the local favorites for those who live in or around Keene, NH. It only takes about an hour to complete and takes you around a beautiful unpopulated lake. The trail can be crowded on a weekend but during the week it's lovely and quiet.
Drummer Hill Conservation Area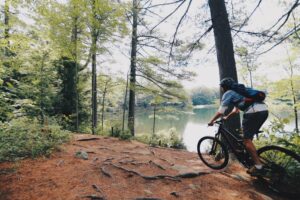 Connected with Goose Pond Recreational Area, Drummer Hill Conservation Area is home to 18 miles of singletrack and 13 miles of double track. These trails are known to be Keene's biggest mountain bike area. They also can be used for hiking, running, cross-country skiing, snowshoeing and some are seasonally used as snowmobile trails. 
There are a variety of trails from beginner-level double-track trails to expert trails branch off for mountain bikers. Many of these single-track trails feature exciting and sharp descents, and the most technical drops also feature a bypass. Much of the area is quite hilly, and as such there are many long climbs. Reaching the high point of 700 feet. So whether you're just starting out or if you're ready for a mountain bike challenge, Drummer Hill Conservation Area has it all.
Visit the Monadnock Region on your next vacation
Southwestern New Hampshire is home to so many different outdoor activities including something for the whole family. Beautiful mountains, lakes, and rivers provide visitors with a wealth of things to do. These 5 must-do activities are just scratching the surface. There are many short hikes, secluded waterways, and hidden gems to be found. 
So whether you like hiking, mountain biking, snowshoeing, or snowmobiling, you can find what you're looking for in New Hampshire. Now the only question you need to ask is where's your next adventure going to begin?
Granite Gorge
Bonus Mention: Located on Route 9 in Keene, NH, Granite Gorge is a downhill ski and tubing resort located on Pinnacle Mountain. Granite Gorge is an easy drive just a few minutes outside Keene, NH. They have 20 trails, many different events throughout the winter, and is one of the best tubing parks in New England. A winter vacation in New Hampshire just wouldn't be complete without taking the family for a fun day at this local attraction.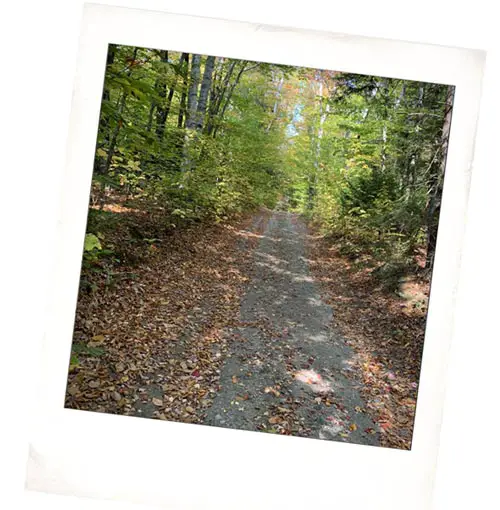 Take a break from the daily grind. Get out and hike in NH!
Pack up the kids and explore the great outdoors on a wonderful family hiking trip in New Hampshire. Spend some quality time with your loved ones on a hiking adventure.
Explore the lakes, rivers, and mountains of New Hampshire. No matter your skill level, find a hike that's right for you and your family to enjoy.
NHVI Staff Writers
Camping is a fun and inexpensive way to get the whole family outdoors and enjoy some much-needed quality [...]