Find your NH Vacation Ideas
Learn about visiting New Hampshire
Southwestern New Hampshire is a great location for a family retreat if you're looking for something where everyone can [...]
If you know little campers or even fast-growing huge campers, you probably know that seeing kids enjoy camping gear is super fulfilling. Imagine a five-year-old girl getting a big purple snuggly sleeping bag and seeing her feeling special, warm, and safe in it on a chilly night on your summer trip. Or, imagine a boy who tends to be a bit of a homebody, who loves the outdoors once he's outside, but is hard to get motivated at first to leave the house. If you mention his hiking poles, though, he will head out the door with enthusiasm. He's always up for a hike with his new hiking poles.
Camping gifts for kids are some of the most rewarding gifts you can purchase because they enable experiences and family memory-making time. They also foster a lifestyle that you may hope to pass on to them – one that appreciates the great outdoors.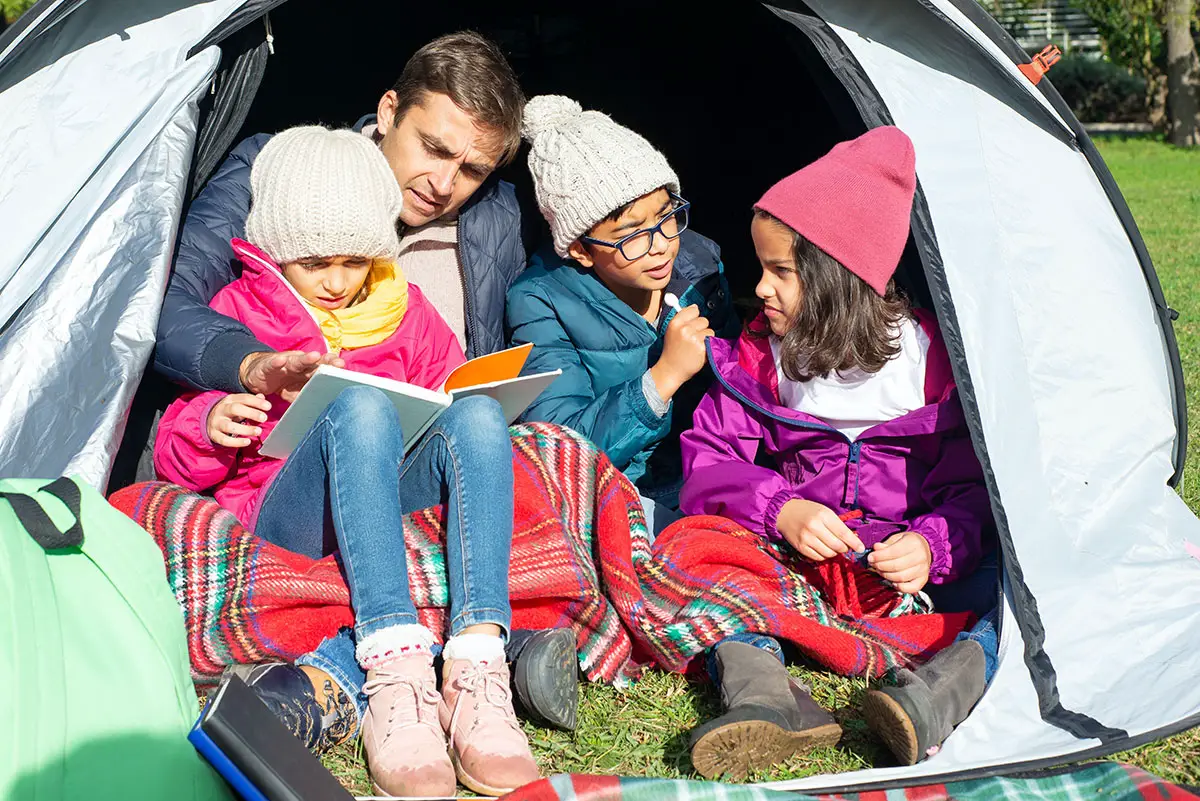 Practical Camping Gifts for Kids
The first types of camping gifts for kids to consider are practical gifts. These are gifts that may not seem exciting at first because they are basic needs for camping, but some kids enjoy practical gifts just as much as fun ones! As an aside note, camping gear can be pretty pricey for some budgets, and kids grow so fast. It can seem not worth it to buy something they will grow out of so quickly. One way to overcome this is to buy adult gear that they can grow into. Here's a complete list of gear to consider, and what to think about when purchasing…
• Adult-sized sleeping bags – Make sure you think about how cold it will get and purchase something that is rated for that temperature It's a good idea to buy a sleeping bag with a hood if you're sleeping in anything under 50 degrees. Sleeping bags can last for many years if cared for properly. That's why an adult size sleeping bag is a good idea so that no matter how much your child grows, it will still fit them. Unless your child is under 3 years old, in which case you can buy a sleeping bag suit that the child wears – almost like a snowsuit.
• Adult-sized hiking poles – Three-tiered hiking poles that can collapse down to a very small stature are great for kids because you can start at the smallest adjustment and change the size as your child grows. As with sleeping bags, no matter how much your child grows, it will still fit them.
• Adult-sized sleeping pads
• Flashlights or headlamps – You can go the traditional route for these, but there are also some fun varieties out there, like REI's frog-shaped click flashlights, solar recharging lights, and other unique lanterns for kids.
• Thermal water bottles
• Camping mug for warm fireside drinks like cocoa
• Mess kit – The fun thing about a mess kit is you can go fancy, or you can get a cheap one that kids can use for pretend cooking play at your campsite (depending on their age).
• Folding chair
• Easy up hammock
• A map and compass
• Hiking backpack (maybe with a water bladder)
• First aid kit -First aid kits can be fun or practical. My young kids love to play with the equipment in them, but older kids may enjoy the practicality of cool bandaids and useful safety items.
• Shovel – As basic as this might seem, a shovel can prove useful at a campsite, and my kids spend hours digging and exploring with their shovels when we camp.
• Snuggle gear (hats, mittens, sweaters, thick fuzzy socks, fireside blankets) – When it comes to snuggling gear you can never bring too much. We tend to go through a couple of mittens and sweaters a day because things tend to get so dirty so fast (think dew, marshmallows, dirt, etc…) and sometimes there is simply no way to dry items that get wet. Snuggle gear also helps kids feel more comfy and safe in a new environment. Layering also matters as nature tends to swing in temperatures within a 24-hour cycle.
Fun Camping Gifts for Kids
When it comes to fun gifts, the sky is the limit. Focusing on what kids are interested in can help you come up with especially entertaining ideas. Here are a bunch that are particularly exciting.
• Unique and fun marshmallows (rainbow, etc…)
• Camping cookbooks (i.e. smores, hot dog variations, etc…)
• Air rocket launcher
• Walkie talkie set
• Bug net and bucket
• Binoculars
• Books on exploring, nature, plant identification, camping, etc… Some of our favorite picture books include The Hike and the Keeper of Wild Words. My Side of the Mountain is also a mid-reading level chapter book that is really inspiring.
• Board games like Slappy Camper, Trails, or Would you Rather
• Nature explorer kits – There are lots of different pre-built kits that you can buy, and it also can be fun to create your own. Items in a kit may include a magnifying glass, collection tubes, a vest and hat, play binoculars, pencil and notepad, a whistle, etc… You can also buy these items separately as individual gifts.
Other Considerations
When it comes to buying camping gifts for kids, there are some other considerations to make which can influence which gifts you purchase for your camper. These questions can help guide you in a meaningful direction:
• Will the gift opening experience be fun or exciting?
• Is the gift good for the planet and/or does the company I'm purchasing from support my values?
• Will the product grow with my kids changing sizes and interests and will it last?
• Does the gift support one of my kids' interests? Or does it foster something I care about that they learn about or experience?
Whether the kid in your life is a seasoned camper, or just getting his or her feet wet, buying camping gifts for kids is a rewarding and long-term investment – a gift that keeps on giving because camping gifts can provide experiences and memories for years to come. A little bit of creativity, some thoughtfulness on what your camper may have interests in, and a bit of research can turn up some pretty amazing ideas. Happy camping!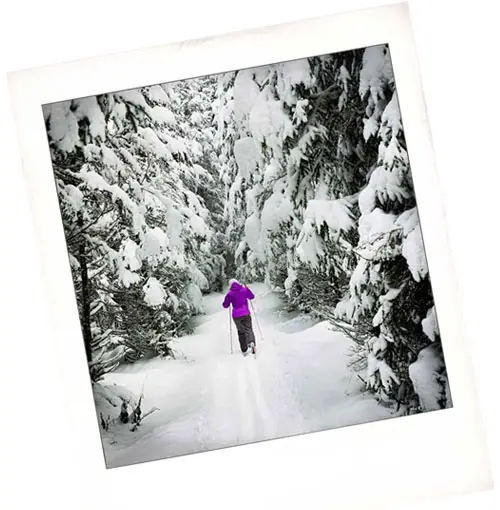 Come Enjoy the Beauty of the Winter
Warm up this winter with family cross-country skiing! From beginner to expert runs, there are plenty of trails to explore across New Hampshire. The hub of cross-country skiing in the Northeast. Find all you need to know to get ready for your next trip to New Hampshire. Places to stay, outdoor activities, skiing and more.
Helmet or no helmet? That is the question. This long-debated topic ultimately leans on preference, [...]