Find your NH Vacation Ideas
Learn about visiting New Hampshire
Is your child using the right size alpine ski? Ski sizes for kids can impact their safety, confidence, and [...]
If you're looking to ski with a new perspective, hitting the mountain at night is a great way to shake things up. Families and individual skiers alike have been flocking to mountains after the sun sets for years to escape crowds and enjoy a festive atmosphere. In New Hampshire, there is no shortage of mountains offering nighttime hours for eager skiers and riders to get their fix.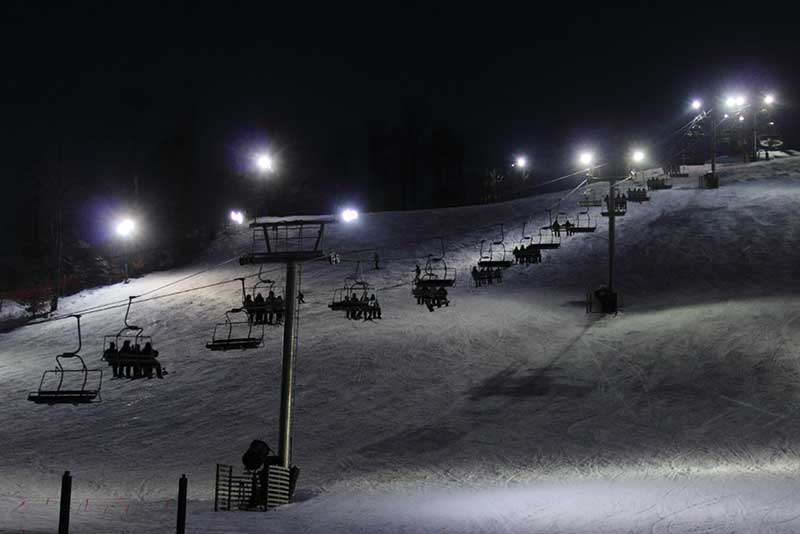 Night Skiing vs. Day Skiing
Night skiing is a truly different experience from day skiing. During the day, you have sun, a variety of trails to choose from, and freshly groomed trails. At night, things change. For example, night skiing tends to be colder since the sun has gone down, so you need to make sure you dress warmly.
Skiing at night also offers different terrain, as most mountains don't groom slopes throughout the day. That means you may be skiing on icier trails that aren't neatly groomed. Most mountains don't offer their full array of trails at night either, since lighting every one can be costly. Some perks of night skiing include a fun atmosphere and fewer people on the slopes.
Is Night Skiing Safe?
At first, skiing at night can seem dangerous or scary, but night skiing is completely safe. As long as you're skiing on well-lit trails, you should be okay. You also need to stay warm while skiing at night. With the sun gone, temperatures can drop significantly, so bundling up is essential.
When you're skiing at night, safety rules do still apply – they may even be more important than during the day. You're responsible for your safety and the safety of everyone else on the trail. At night, being aware of your surroundings is even more critical, as it can be harder to see fellow skiers.
You should always review the safety rules and trail map of the mountain you are skiing at beforehand, especially if it's the first time you're skiing there. If you're unfamiliar with a mountain and planning to ski there at night, you need to know where you're going and which trails are lit.
What Makes Night Skiing Fun?
Night skiing is an entirely different experience from day skiing, but that's what makes it fun! Many people enjoy night skiing because there tend to be fewer people on the slopes. It's also a brand new way of skiing. So, if you've been growing bored of day skiing, you can go at night for an entirely different experience.
Can Kids Ski at Night?
Kids can absolutely ski at night! In fact, if you're hoping to improve your kids' skiing skills, hitting the slopes when the sun goes down gives them a great challenge that helps improve their technique. If your kids are beginner skiers, we recommend having them take some lessons at night to get a feel for the difference between day and night skiing.
Resorts in New Hampshire with Night Skiing
If you're planning a ski trip to New England and looking for ski resorts that offer night skiing, New Hampshire has a variety of mountains to choose from.
Abenaki Ski Area
Abenaki is the oldest small ski area in America and one of the ten oldest ski areas in the country. This small little ski area in Wolfeboro boasts seven trails for all different levels. They're open for night skiing on Fridays, Saturdays, and Sundays throughout the season.
Crotched Mountain
Located in Bennington, Crotched Mountain brings the party to night skiing. On select weekends they host Midnight Madness, where trails stay open until 3:00 am. After the sun sets, they re-groom trails to ensure safety and let skiers and riders hit the slopes well into the twilight hours.
The Midnight Madness festivities don't stop there, either. Crotched as a pub and lounge where they host free concerts, block parties, and bonfires throughout the night.
Pats Peak
Pats Peak offers some of the best night skiing in New Hampshire. Located in Henniker, the family-owned and operated mountain opens 22 of its 28 trails for night skiing until 9:00 pm or 10:00 pm most nights of the week. On Saturday nights, they offer a pay-one-price special that gives buyers access to skiing, snowboarding, tubing, rentals, and lessons.
Waterville Valley Resort
This 4,000-foot mountain offers night skiing on select weekend nights throughout the ski season. It's important to know that Waterville does not offer lessons or rentals during night hours, but don't let that stop you from joining in on the fun. What makes this mountain so fun for night skiing is hitting the base village once you've finished for the day. There you can find shopping, dining, and après-ski options.
Cranmore Mountain
Cranmore Mountain is a four-season resort located in North Conway. They offer night skiing on Saturdays and during holiday periods until 8:00 pm. Similar to other mountains, Cranmore only offers a select number of trails for night skiing. They have five trails ranked from beginner to intermediate and one terrain park.
Cranmore also has activities for non-skiers, with New Hampshire's #1 Snow Tubing Park, a year-round Mountain Adventure Park, and many seasonal events.
King Pine
King Pine offers nighttime skiing and riding every day during the winter from 3:30 pm until 6:00 pm. It's the perfect mountain for entertaining families and children, making it easily worth the long drive. Their twilight offer tickets are also a great price, perfect for any budget seekers.
Whaleback Mountain
Located in Enfield right off of I-89 at Exit 16, Whaleback Mountain has four lifts, boasts 30 trails with a 700-foot vertical, and has an authentic New England mountain feel. They offer night skiing on 13 trails Tuesday through Friday and host a popular Thursday night race league. Whaleback is the only option for night skiing in the Dartmouth/Lake Sunapee region, and skiing under the stars here can't be beat!
Summary
Just skimming? Here's the low down on everything you need to know about night skiing in New Hampshire:
Night skiing provides a fun alternative to day skiing. While slopes' conditions may change and there are fewer trails available, there are typically fewer skiers on the hill at night…and a super fun atmosphere!
It's completely safe to ski at night. Make sure you stay warm, only ski on well-lit trails, and follow safety rules closely.
Night skiing is fun because it opens up a whole new world of skiing where you can sharpen your skills in a different way.
Kids can ski at night, but it's best to start them out in lessons first.
New Hampshire has several mountains that offer night skiing. It's up to you to pick the one that interests you most – or try them all!
Plan Your New Hampshire Ski Vacation
Are you looking for more tips on how to make the most out of New Hampshire winters? Planning the perfect ski trip might be at the top of your priority list, and we're here to help. At New Hampshire Vacation Ideas, we aim to help families have the best New Hampshire vacation they can – in any season! Check out our website now to keep planning your perfect New England ski vacation.
A Road Trip to New Hampshire
New Hampshire is calling your name! Whether you're looking for outdoor activities, beautiful views, or
just
to get away. What's great about New Hampshire? It's one of the most beautiful places on earth! Can you believe it's
just
a couple of hours drive away from Boston, New York, Hartford, and Montreal?
No matter what family fun you're looking for. We've got you covered. Find inspiration today for your next New Hampshire family vacation.
A few hours drive for a LOT of family fun.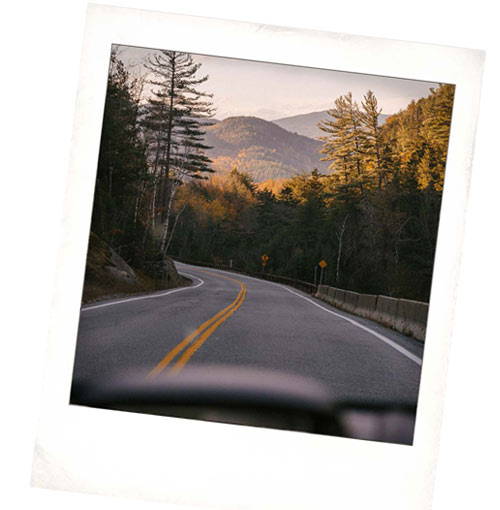 Find your NH Vacation Ideas Some of our recommend hiking trails in Keene, NH [...]