Nestled amidst the breathtaking landscapes of the Monadnock region, the Marion Davis Trail on Pack Monadnock offers an unforgettable hiking experience. This hidden gem of New Hampshire promises a journey through lush forests, panoramic vistas, and tranquility that nature lovers crave. In this guide, we will delve into the specifics of this trail, including the best time to hike it, the duration, the difficulty, and whether it's pet-friendly. Plus, we'll provide valuable insights for families with kids who wish to explore this natural wonder.
The Location
Marion Davis Trail is located in Miller State Park, just a stone's throw away from Peterborough, New Hampshire. This idyllic park encompasses the 2,290-foot summit of Pack Monadnock, offering hikers an opportunity to connect with nature while enjoying remarkable views. The trailhead is easily accessible from Route 101 and is well-marked, making it a convenient starting point for your adventure.
Best Time to Hike
The best time to embark on the Marion Davis Trail adventure largely depends on your preferences and what you're looking to experience. Spring and summer are popular seasons, offering lush greenery and vibrant wildflowers. Early mornings or late afternoons in summer are ideal for avoiding the heat.
Fall, however, is a true spectacle on the Marion Davis Trail. The foliage explodes with vibrant hues of red, orange, and yellow, transforming the hike into a picturesque journey. For those seeking solitude and a peaceful experience, consider the less-crowded weekdays during this season.
Winter adds a unique layer of enchantment to the trail. If you're a seasoned hiker, snowshoeing or hiking with appropriate gear can be rewarding. The crisp air and pristine snow-covered landscape offer a serene escape.
Hike Duration and Difficulty
The Marion Davis Trail is approximately 1.3 miles in length, making it an excellent choice for hikers of various skill levels. On average, it takes around 1 to 2 hours to complete the hike, depending on your pace and the time spent admiring the scenery.
In terms of difficulty, this trail is considered moderately challenging. It begins as a gentle ascent through a mixed forest, gradually becoming steeper as you approach the summit. Sturdy footwear with good grip is recommended, as some sections may be rocky or root-covered. Families with children should be cautious, especially on the steeper portions.
The effort is well worth it as you reach the summit, where a fire tower awaits. Climbing the tower grants you a 360-degree view of the surrounding landscapes, including Mount Monadnock in the distance.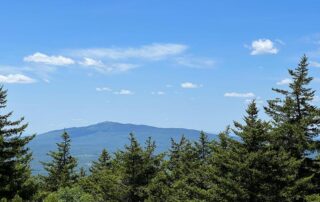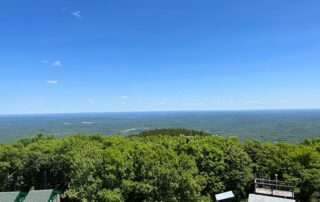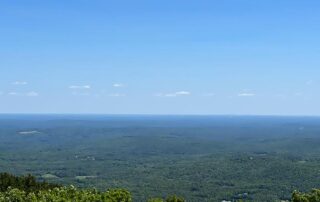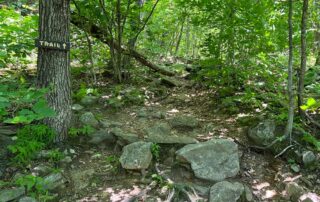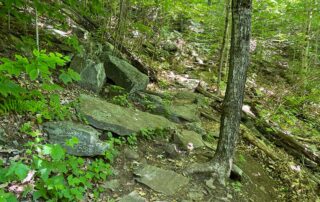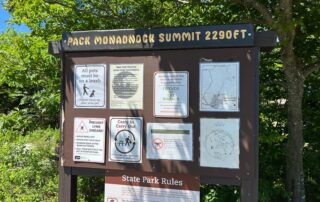 Pet-Friendly or Not
Good news for pet owners – Marion Davis Trail is pet-friendly! You're welcome to bring your furry companion along for the adventure, but remember to keep them on a leash at all times and clean up after them. Many hikers enjoy sharing the trail with their four-legged friends, making it a great family outing for both human and canine members.
Recommendations for Hiking Families with Kids
Hiking with kids on the Marion Davis Trail can be a rewarding experience that creates lasting memories. Here are some recommendations to ensure a successful family adventure:
Start Early: Begin your hike early in the day, especially if you have young children. This allows you to avoid the midday heat and provides ample time to explore and enjoy the summit.
Pack Essentials: Be prepared with essentials such as water, snacks, a first-aid kit, sunscreen, bug repellent, and extra layers of clothing. It's essential to ensure everyone's comfort and safety.
Educate and Engage: Turn the hike into a learning experience by teaching your children about the local flora and fauna. Engage them with questions and encourage curiosity.
Take Breaks: Kids may need more breaks than adults, so plan for short rest stops along the trail. These breaks can also be opportunities for snacks and hydration.
Play Nature Games: Make the hike enjoyable with nature-themed games. Scavenger hunts for specific leaves, rocks, or animals can keep kids entertained.
Safety First: Emphasize safety by teaching kids the importance of staying on the trail, respecting wildlife, and following trail markers. Equip them with whistles and basic navigation knowledge.
Summit Celebration: Once you reach the summit, celebrate your achievement with a picnic or snacks while taking in the stunning views. Be sure to capture the moment with photos.
Leave No Trace: Teach kids about Leave No Trace principles, emphasizing the importance of preserving nature and minimizing human impact.
The Marion Davis Trail on Pack Monadnock offers a wonderful opportunity for hikers of all ages to connect with nature and enjoy the great outdoors. Whether you visit during the vibrant foliage of autumn, the lush greenery of summer, or the serene winter snow, this trail has something special to offer.
Families with children and pet owners can all find their place on this moderately challenging hike. Just remember to prepare adequately, respect the environment, and cherish the memories you create along the way. Pack your backpack, lace up your hiking boots, and embark on this remarkable adventure in the Monadnock region.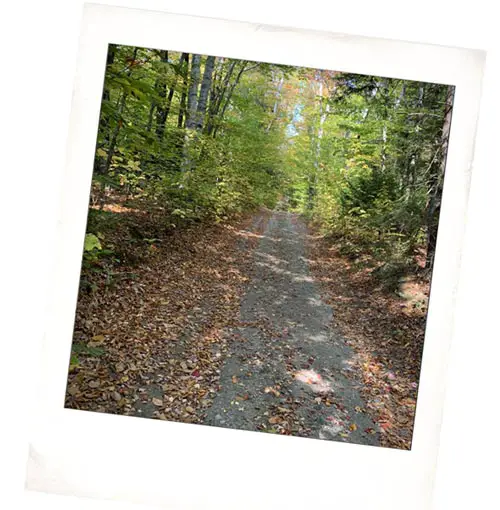 Take a break from the daily grind. Get out and hike in NH!
Pack up the kids and explore the great outdoors on a wonderful family hiking trip in New Hampshire. Spend some quality time with your loved ones on a hiking adventure.
Explore the lakes, rivers, and mountains of New Hampshire. No matter your skill level, find a hike that's right for you and your family to enjoy.
Get out and enjoy a family hike in Sunapee NH When you visit the Lake Sunapee region, [...]