Find your NH Vacation Ideas
Learn about visiting New Hampshire
If you're looking for a fun way to get out with your family during the [...]
Getting the Correct Cross Country Ski Boot Size for your Kids Makes a Big Difference
The air is cold and crisp. The sky is pure blue. And the clean smell of new-fallen snow greets your senses. You want your family to experience the New Hampshire winter. And a great way to do that is cross country skiing.
Cross country skiing is great for families because children of any age can pick it up. It's putting one ski in front of another. Classic Nordic skiing doesn't even require a particular amount of coordination – though it does help.
The thing to consider is that a fun family experience can turn into a family feud if you don't have the right equipment for your kids. You want your kids to have a great experience. That means getting the right gear in the correct size. So how do you choose the right cross country ski boots for your kids?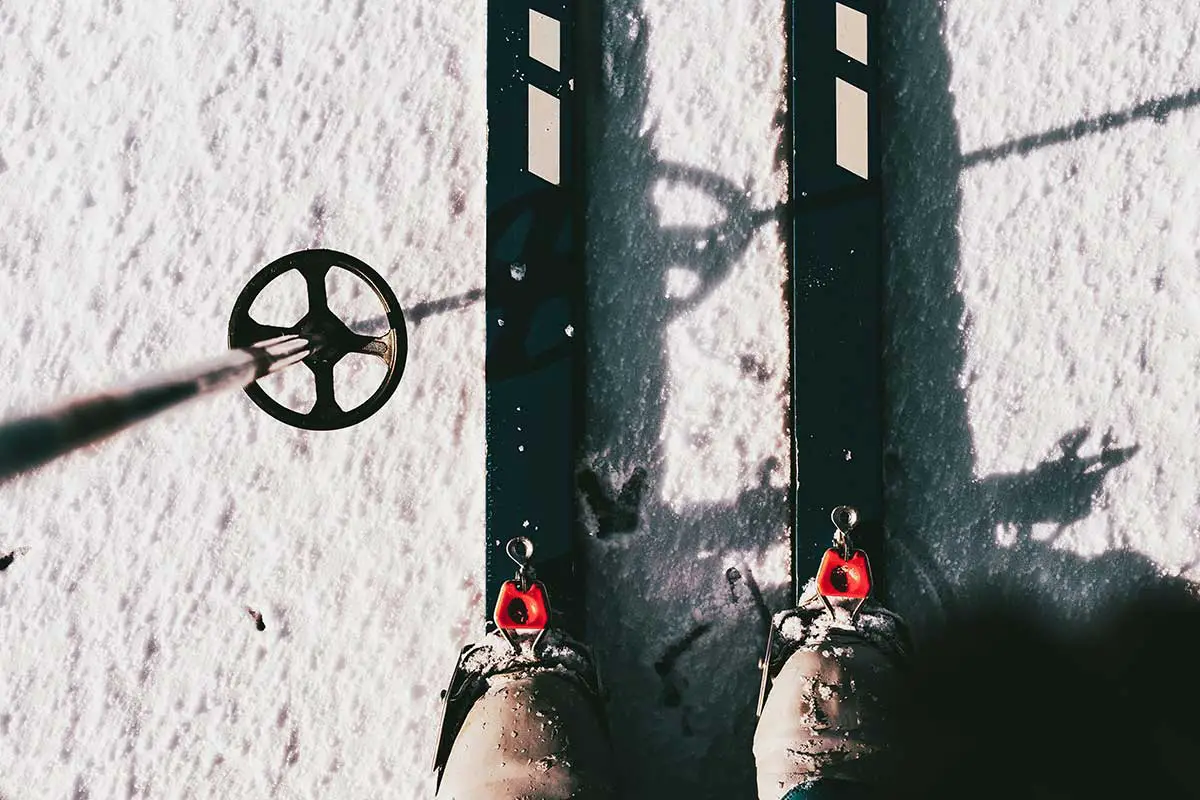 Is Cross Country Skiing Good for Kids?
Absolutely! Cross country skiing is a great way to get your kids outside during winter. It provides good core exercise that kids need to stay focused. And it helps young children develop small stabilizing muscles.
But, especially at those younger ages, your child's safety and comfort should be your number one priority. Here are some things to consider when buying cross country ski boots for kids.
1. Comfort
Everyone knows that kids can get quite opinionated when they aren't comfortable. Getting the proper fit will help keep them comfortable.
But also make sure that the cross country ski boot you choose has plenty of insulation to keep their feet warm and the snow out.
2. Support
Most Nordic cross country ski boots for kids have a wider fit. This helps young kids balance easier. There's also more support around the heel for easier steering and lateral movement.
The more in control your kids are of their own skis, the safer your trip is going to be.
3. Type of Cross Country Skiing
The type of cross-country skiing you choose depends on your child's coordination and balance capabilities. It also determines the kind of cross-country ski boots you need to use.
If your kids have just mastered the art of walking, then stick to classic Nordic cross country skiing. Both the boots and skis are wider which makes it easier for them to balance and steer.
If they're athletic with good coordination and a need for speed, your kids might like to try skate cross country skiing. These boots and skis are narrower. It's a full-body workout that requires balance and agility. But it's also sure to give them lots of fun times.
If your family likes to take the road less traveled, then try Nordic backcountry skiing. These boots are built for all-day comfort, warmth, and flexibility for traveling those wilderness trails.
Now the Combi Nordic Ski boots support both classic cross country skiing and skate cross country skiing. If you think your kids would enjoy both, then these are a great option.
4. Cross Country Ski Boots Must Match the Binding Type
If you are buying your boots first, then you should be able to find a binding type and ski to match what you buy.
But if you already have your skis and bindings, make sure that the boot you choose is compatible with the binding that you already have.
5. Correct sizing
After you determine the type of cross country skiing your child is participating in, you need to find the right fit.
You can buy the right boot, but if you get the wrong size your kid will be miserable with sore toes and pained heels.
What Cross Country Ski Boot Size Is Best for My Kids?
When it comes to sizing cross country ski boots for your kid, you need a good fit that will be comfortable all day.
Be sure your kids can try on the boots before your cross-country skiing trip. You want the boots to be slightly loose around the widest part of your child's foot.
Before you fit the boots, have your child put on the socks they will wear when skiing. Make sure the heel is all the way back. Then ask them:
1. Does the boot fit snugly around the heel?
The heel should fit securely inside the boot. You don't want it moving around at all because that's what will cause blisters. And a shifting boot also makes it hard for your child to control their movement.
2. Once they have the boot on, have them kick the floor in the same motion they would use when skiing.
Ask them, "Do any of your toes hit the front of the boot even a little bit?"
A slight tap may not hurt them once, but after 30 minutes of that same motion, their little toes are going to get sore. You want the toe to barely brush the inside of the boot with socks on.
3. Finally, ask, "Does it feel tight anywhere?"
A snug fit is good. A tight fit is not. This can be hard to gauge with kids who are sensitive to things being tight, but it is essential for a good fit.
A proper fit helps your kids control their movement and experience the joys of cross country skiing without the blisters and bruises.
What Brands Carry the Best Cross Country Ski Boots for Kids?
All brands have some ski boots that fit kids, but some have a wider range than others.
1. Boot Skis
If your kids are 2 and under, it's best to go with a boot ski. It's adjustable and can fit around their own snow boots or hiking boots. These skis have a good wide base for balance and can grow as fast as your kids' feet at that age.
2. Salomon
The smallest size boot available right now is the T2-RT from Salomon. It fits a size 7 toddler (with some thick socks.) The T2-RT uses a thin shell for structure and buckles so that it's easy for kids to put the boots on themselves. The shell also keeps the snow from working into the boots.
Salomon also makes the RC Pro-link Jr. Cross Country Ski Boot. This boot actually allows you to customize the size to better fit your child's constantly growing feet. These are also compatible with many binding types which is a huge plus.
3. Rossignol
The Rossignol X-1 Junior is a nordic cross country ski boot for kids. It's super comfortable and warm with extra support. The extra support is great for helping smaller kids learn those lateral movements.
The bonus here is that these laces are easy for the kids to tighten themselves. That means less bending over for you!
4. Madshus
If your child is ready to try some skate skiing the Madshus Raceline Ski Boot provides the control and support they need.
These are combination boots that they can use when going nordic skiing or skate skiing. And the stiff heel design here makes steering easier for kids.
Your Cross Country Skiing Adventure Awaits…
Just because it's cold outside doesn't mean you have to stay cooped up indoors on your vacation. New Hampshire has a lot to explore even in winter. With the right size gear, you and your kids are sure to make memories that will last a lifetime.